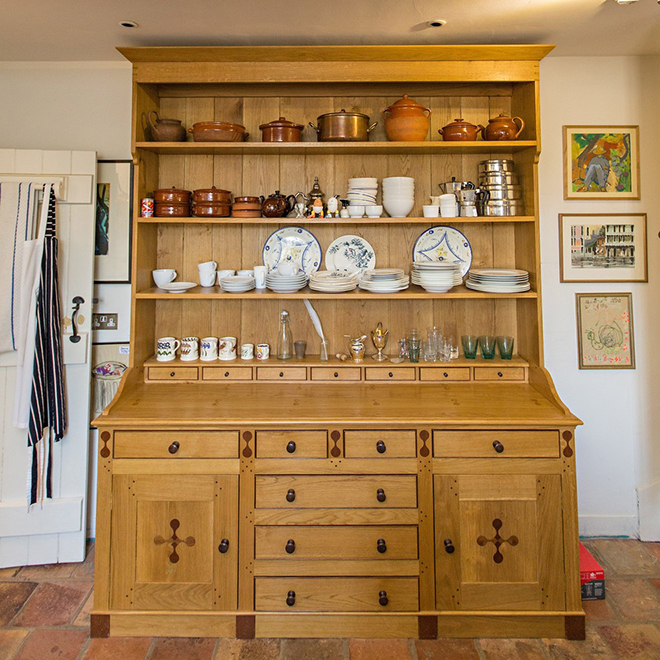 A proper cabinet making workshop…
We design and make first class wooden cupboards, furniture and joinery for every room in the house. We choose the best materials and methods, and we don't compromise on quality.
PRICE CABINET MAKERS is a small team of highly skilled craftspeople with a wealth of experience.  Rekindling the spark of great British design and manufacturing. Proud to offer a fresh approach; real furniture of the highest standard that will last a lifetime.
Founder, Steve Price, began making furniture after gaining a first class degree in Fine Art – sculpture at Norwich.  His passion for perfecting traditional woodworking hand skills led to him to become a journeyman cabinet maker, gaining valuable knowledge and expertise in all aspects of traditional English furniture production.
Beginning in tiny workshop on a farmyard in Oulton – North Norfolk, Steve gradually established a client base built on a growing reputation for providing exceptional attention to detail. His uniquely personal  design approach relies simply on empathising with the user and focussing on form and function without unnecessary complication.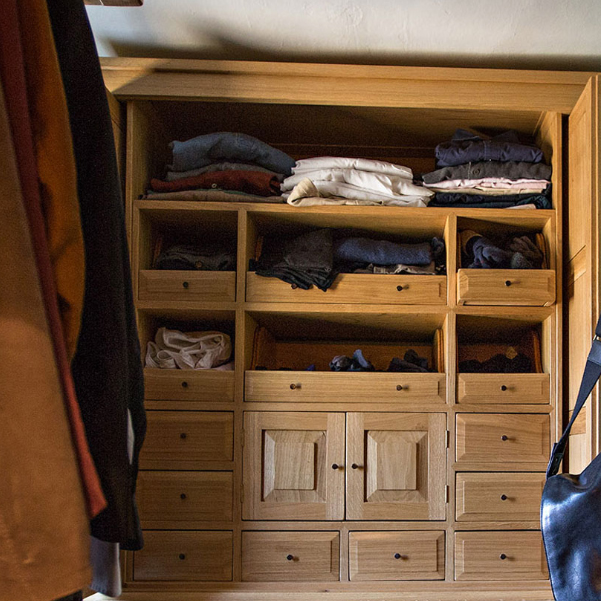 Now, with a  dedicated team of like minded makers to help deliver ever more ambitious projects; PRICE CABINET MAKERS continues to combine fresh design concepts with traditional English cabinetmaking skills, unique and eminently practical.
Every commission starts with an informal design consultation. This takes place on site, or if you prefer, come and visit our workshops. Remember to bring as many pictures, drawings, plans and ideas as you can. It's an invaluable a chance to discuss your ideas and sketch out initial designs.  No two projects are the same and its always exciting to start imagining the possibilities for a brand new room.  We'll then produce scale drawings and sit down with you to look at the choices of materials, hardware, colours and finishes, before agreeing prices and timings. Your piece will then be handcrafted in our workshops. Feel free to visit us at any time during the process.
When we're sure your commission has been built to the highest possible standard, the same skilled hands that built it will carefully deliver and install it.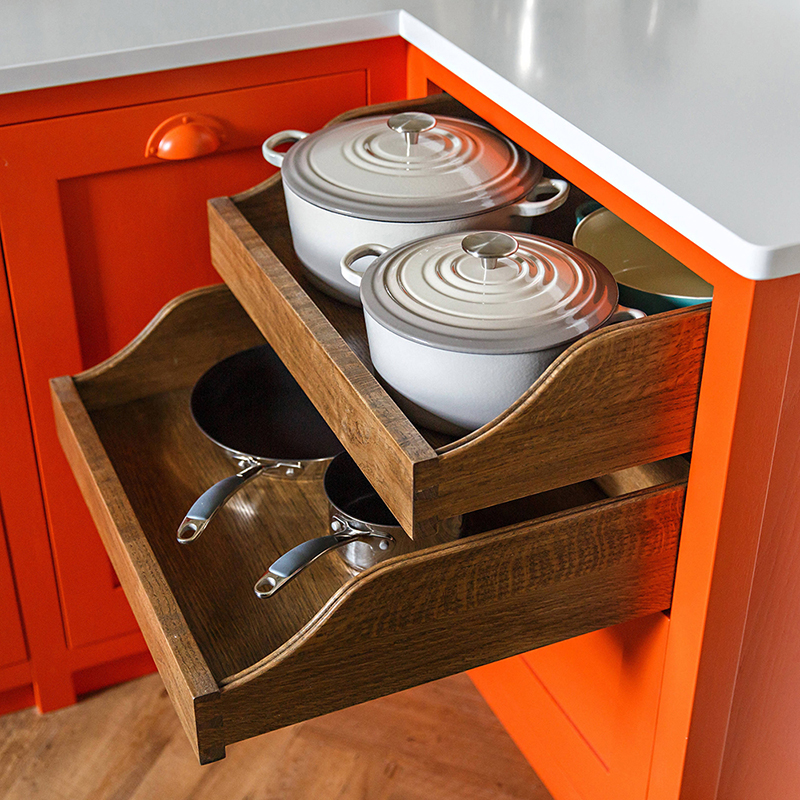 The first step to a successful project is to make sure we get the wood right. We use English and European sustainable hardwoods and take time to select the very best stock.  We offer a choice of timber for our painted kitchens but in our opinion it has to be Oak. With its distinctly pronounced open grain pattern it looks spectacular under our specially developed paint finish, allowing the rich, natural texture to show through; It is easily the toughest timber and will comfortably stand up to the inevitable knocks and bumps of everyday life.
Cupboard doors are made with mortise and tenon joints and are individually hand planed for a millimetre perfect fit.  We use solid brass butt hinges and invisible magnetic closers hidden just below the surface of the paint.  Drawers have always been the signature of the cabinet maker, we take great pride in ours: Hand made from solid Oak, perfectly proportioned half-blind dovetails attach the drawer fronts, with through dovetail joints at the back.  Choose simple waxed Oak runners for an authentic timeless feel, or our top quality soft-close concealed runners for effortless, smooth opening and closing.  The finishing touches are important and we will help with everything, whether you're choosing the right worktop or sourcing the perfect cupboard latch, if we can't find it, we'll make it ourselves… or we know someone who can. We are lucky to have strong relationships with trades and suppliers that we trust and who understand the importance of the small things.