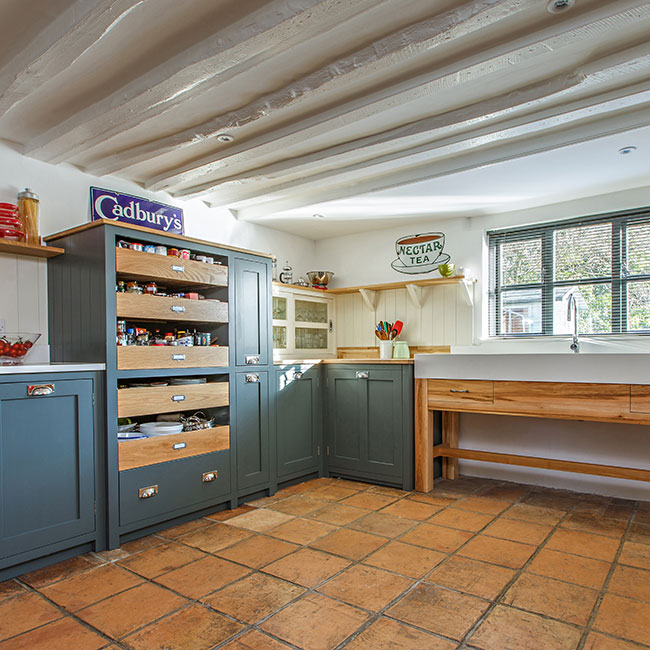 Three former farm worker's cottages were knocked together to make Meadow Cottage. Set in idyllic rural Norfolk, It has bags of character and tonnes of potential.
Step one was to get the big hammers out and really open up the space; a large walk-in pantry, whilst useful, had to go as it swallowed most of the natural light from the garden. We have a super team at Price Cabinet Makers and were able to keep the whole project in-house, making sure the dirty work was carried out as swiftly and cleanly as possible.
Low beamed ceilings meant wall cabinets were out of the question. however this didn't mean we had to compromise on storage space; the larder tower, with it's open fronted drawers and clever pull-out racking a super efficient use of space. and an eye level shelf runs around the whole room on two sides.
The star of this design is the stunning free-standing sink unit: Made from reclaimed Ash with a super deep white Quartz worktop and sleek stainless sink.
With open space to the wall below, it makes the room feel as big as it can be, and it's simple design emulates the straight lines echoed in the ceiling, floor tiles and T&G cladding. Of course, all the plumbing and wastes are hidden within the unit.
The rest of the base cabinet run is made up of bespoke sized cupboards and drawers – the beauty of having your kitchen made for you is that each item is specially tailored to fit your space perfectly.