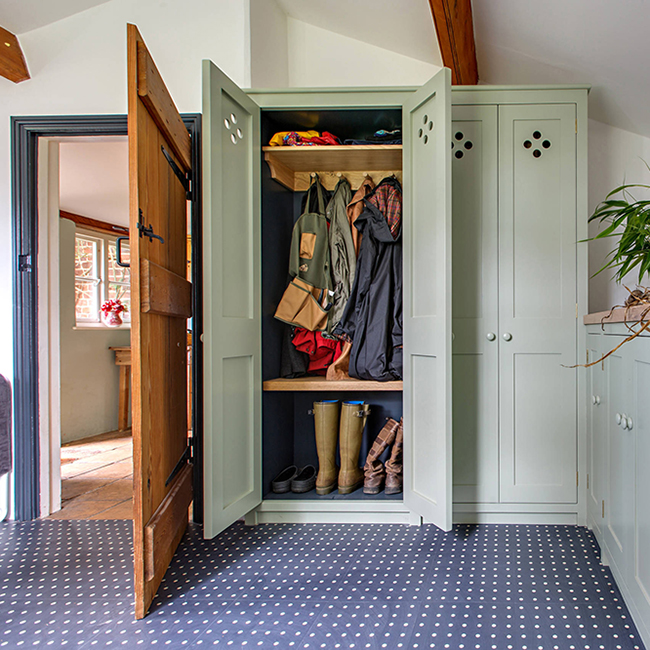 Meadow cottage has had several incarnations: Originally a row of farm labourers' two up – two down cottages, each with it's own small plot in front for growing veg. Then, after being knocked through to one house and extended, it suffered a catastrophic fire that meant a complete renovation.  On arrival at the cottage you are struck immediately by the fabulous garden; towering hollyhocks and climbing roses force you to duck as you follow the path to the furthest door in the row, now the main entrance to Meadow Cottage.  Gardens surround on three sides with views across the horse paddocks beyond.
Most of the interior is painted a simple bright white, with it's low ceilings and exposed beams, the look is perfect for the house and it has an effortless and relaxed country style.  Over a cup of tea at the kitchen table we discussed possible layouts and began to sketch plans to convert the adjacent room, currently a home office, into a multi use space; office, boot-room, laundry, utility and bedroom for Rosie the Labrador.
The tall cupboard comprises hanging space for coats, a shelf for hats and bags and space for wellies at the bottom. With solid Oak fittings it looks fantastic with the dark (F&B Railings) interior and lighter earthy green (F&B Vert-de-Terre).  The right hand side is an airing cupboard with slatted shelves made of aromatic Cedar-of-Lebanon. The cupboard has a discrete built in heater to keep the contents warm and dry.  A bank of bespoke base cupboards and appliance housings cover the end wall and a pale Raw-Oak worktop finishes the look.
To discuss your project, don't hesitate, get in touch today.